GOLF BIOMECHANICS ANALYSIS
Would you like to improve your golf performance; namely increases in swing speed, driving distance and long game consistency? Stuart Robinson has developed a Golf Biomechanics Analysis package to help you achieve this!
By knowing where in your body and during which types of movement you are lacking in strength, flexibility and balance can you isolate the specific exercises required for you to improve your golf performance. Stuart Robinson provides golf biomechanics and performance assessments and programmes that can isolate and improve upon the weaknesses in your physical performance.
Whilst studying Human biology at the University of St Andrews, Stuart was awarded a Golf Bursary by The Royal and Ancient Club of St Andrews. He continues to play off scratch at Walton Heath and St Andrews. This special interest in golf, combined with his chiropractic expertise, has lead Stuart to give teaching seminars about golf biomechanics. In recent years he has been involved in giving lectures to members of the Professional Golfer's Association as part of their membership continuing education programme. He also treats a number of professional golfers.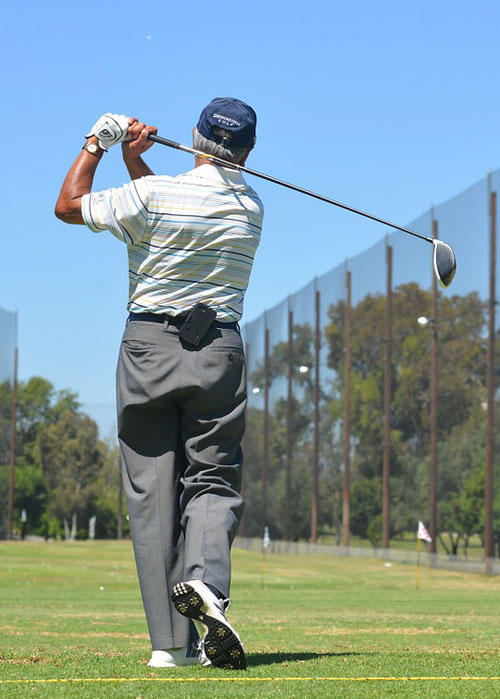 Stuart says:
"My role in this work is to form a link between swing coaching and physical training. I am not a golf coach and so I only wish to facilitate a player achieving the movements they and their golf coach have agreed to work on. I am a scratch golfer myself, so I do have an understanding of the golf swing".
Stuart starts by finding out what level of golf people play and what their aspirations are for their golf games. Age, current fitness and injury history are all taken into careful consideration. He then discusses what they have been working on with their swing coach and analyses video of their swing if this is available. His primary aim is to then try to isolate the physical parameters that are holding them back, be it lack of flexibility, lack of strength (in a particular muscle group or area of the body) or a lack of balance in a dynamic action such as the golf swing. This involves performing a series of physical tests and analysing movements that aren't golf swings but relate closely to golf (this often includes video analysis). Once the golfers' physical limitations have been found, he assesses to what extent he feels these can be improved upon, given that person's age, injury history and the time they have to devote to a remedial exercise programme which he can provide and teach them to perform.
WHAT DOES THE RESEARCH SHOW?
Recent scientific studies have demonstrated that appropriately designed exercise programmes significantly improve golf performance. Here is a summary of some of the improvements:
- The muscle strength assessments showed a 31.9-pound increase in the 10-repetition maximum leg extension weight load (an improvement of 55%).
- Golfers lost an average of 4 pounds of fat and increased their lean muscle mass by an average of 4 pounds.
- Movement range increased 11.9 degrees in shoulder abduction (sideways movement), 15.3 degrees in hip flexion and 8 degrees in hip extension. On average, joint flexibility in the shoulder and hip areas improved by 24 percent.
- Finally, the golfers achieved on average a 5 mph increase in their club head speed. This indicated a 6 percent improvement in driving power. That equates to turning a 250 yard drive into a 265 yard drive!
Golf Biomechanics Analysis Packages
Stuart offers a comprehensive Golf Biomechanics service at Precision Golf in West Byfleet. If you would prefer to be assessed at Haslemere Chiropractic Clinic, please speak to Stuart to discuss the possibilities. Reception will be happy to set up telephone call.
Chiropractic treatment targetted at golf issues
You can book an Extended Treatment (30 mins) with Stuart Robinson. Leave a note at the time of booking that you have a golf related issue. Whilst this will not be as comprehensive as Stuart's full Analysis packages, he should be able to provide manual therapy and a targetted exercise programme that is of assistance.